Published on 11 December 2015

ISSUE BRIEF N. 2
DECEMBER 2015
Responding to Human Trafficking and Exploitation in Times of Crisis
Reducing the Vulnerabilities of Crisis Affected Populations, Including Migrants, in Preparedness, Response and Recovery Efforts
Sarah Craggs, Laura Lungarotti, Michela Macchiavello, Agnés Tillinac,
International Organization for Migration
Overview

Trafficking in persons is a complex and serious crime. The short- and long-term physical and emotional implications can be debilitating and life altering for the victims. The MICIC Initiative aims to help save lives and protect the rights and dignity of migrants. While it is well recognized that trafficking in persons takes place in times of peace, it can equally take place in times of crisis. Migrants are abused, exploited, and lose their lives at the hands of human traffickers in times of armed conflict or natural disaster. This dimension, however, is largely overlooked by governmental and non-governmental actors alike and merits specific attention.
Published on 11 December 2015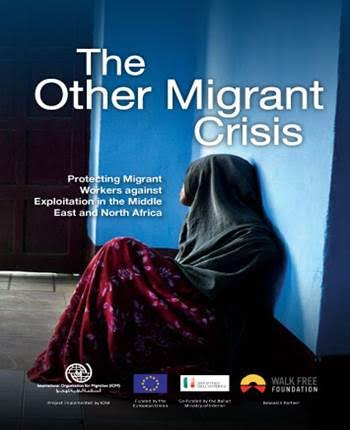 Cover of "The Other Migrant Crisis" Research Paper released by IOM
The Middle East and North Africa (MENA) region especially in the Gulf has continuously attracted migrants from around the world due to the region's oil boom and dramatic upsurge of all kinds of construction.