Cuisia Vows Help For 500+ Victims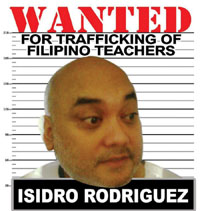 WASHINGTON -- Philippine Ambassador to the United States Jose L. Cuisia Jr. is urging at least 500 undocumented Filipino teachers in the United States, who were victimized by illegal recruiters, to step out of the shadows so they could be assisted in securing immigration relief and testify in going after the recruiters.
"Our teachers need not be afraid. We are here to help," Cuisia assured the teachers, many of whom have fallen out of status because they failed to land the promised teaching positions.
The ambassador also assured 25 trafficked Filipino teachers who called on him at the embassy on Wednesday that authorities in the Philippines will continue to seek justice for them by going after the guilty parties.
One of the recruiters, Isidro Rodriguez, is believed to have gone into hiding to avoid multiple cases of illegal recruitment, alien smuggling, visa fraud and human trafficking filed against him in the Philippines and the U.S.
Migrante International, an advocacy group for migrant Filipino workers, decried Rodriguez's release on May 8 after a settlement with a few teachers from a primary case against him. The suspected trafficker was a no show at a May 13 hearing of a trafficking charge against him before Justice Department prosecutors in Manila.
"We will not stop until we get Isidro Rodriguez," Cuisia told the teachers and other trafficking victims who came to the embassy to seek the diplomat's help.
Consular assistance
At the meeting Wednesday, Cuisia said the embassy staff will continue to provide consular assistance to the trafficked teachers, including the waiver of authentication fees and issuance of the necessary certification to support their request for immigration relief with the US Department of Homeland Security.
Filipino American lawyer Arnedo Valera, who has extended legal assistance to some of the teachers, said during the meeting that Philippine authorities need to be more aggressive in going after traffickers and illegal recruiters because of the harm they do on the victims and the country's image.
Labor Attache Angel Borja, who also attended the meeting, said the embassy will recommend that all job offers in the U.S. be strictly verified before applicants are even entertained to apply for these jobs.
Borja expressed confidence that Philippine authorities would soon arrest Rodriguez, who remains on top of the watch list of the Inter-Agency Council Against Trafficking, the Anti-Money Laundering Council and the Bureau of Immigration.
So far, Borja said, a total of 21 illegal recruitment cases have been filed against Rodriguez on top of 41 other recruitment violations already lodged against his company, Renaissance Staffing Support Center Inc. in Manila.
Charges filed
Valera, an executive director of the non-profit Migrant Heritage Commission (MHC), said cases have also been filed against Rodriguez with the U.S. Citizenship and Immigration Service and the Federal Bureau of Investigation.
Valera commended the embassy's anti-trafficking efforts, saying it was the report of then Ambassador Willy Gaa to Manila in 2008 that eventually led to the arrest and detention of Rodriguez.
"Since 2007, we have been engaged in a meaningful partnership with the embassy in the investigation and filing of charges against Rodriguez as well as in other cases of human and labor trafficking perpetrated by other recruitment agencies and individuals," said Valera.
But other Filipino groups accuse Manila of not doing enough to protect its overseas workers.
The militant women's group Gabriela noted that since 2003 numerous complaints have been reported to Philippine embassy officials the Philippine Overseas Employment Administration about "contract substitutions and exploitative work conditions the trafficked teachers have gone through.
Slow PH action
"These complaints have been met with slow and unsatisfactory response from the Philippine government officials and [concerned] agencies [which are supposed] to protect the rights and welfare of Filipino migrants," Gabriela said.
The militant group also observed that as early as May, the trafficked teachers and their advocates have sought the help of consular and embassy officials during a May meeting in San Francisco, but it is only now that the officials are finally acting on their pleas for help.
Valera surmised that Rodriguez may have duped as many as 1,000 teachers into forking a least $10,000 each for non-existing jobs in various public schools across the U.S. from 2003 to 2007.
Valera said he is extremely bothered by the magnitude of the trafficking and illegal recruitment problem affecting U.S.-bound workers alone.
"These issues could not have happened with such impunity if our labor officials and other concerned agencies in the Philippines had been doing their job," Valera said.
The lawyer said the situation has been so bad that some of the victims have decided to head back to the Philippines with their shattered American dreams. But a great majority of the teachers, he added, have opted to take a chance by staying and working illegally in the U.S.
Limited options
"These victims have little options," Valera said by phone Wednesday night. "Most of these folks have either sold property or borrowed heavily to come up with the illegal and exorbitant placement fees, only to discover that the promised teaching jobs just aren't there."
He added that the "stigma of defeat" and the "shame and fear" to face their creditors back home, have forced many victims to take their chances to survive, taking odd jobs as caregiver, nanny or even cleaning homes.
On the upside, Valera said an estimated 300 of the teachers have already been issued trafficking visas and can are allowed to legally stay and work in the U.S.
He added that although more and more may not be willing to come forward, many of the victims prefer to stay in the shadows for fear of being deported.
Source:


By JUN MEDINA
http://www.filamstar.net/californianews/2221-trafficked-teachers-urged-to-come-out.html