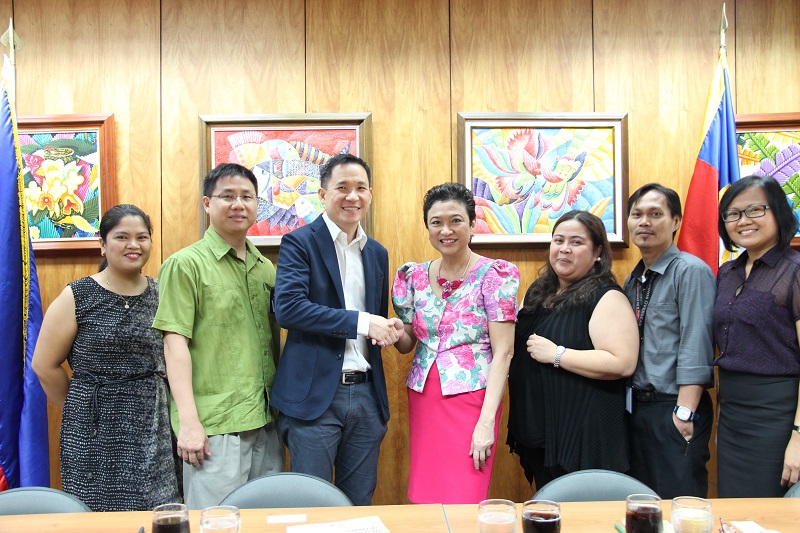 The Commission on Filipinos Overseas (CFO) recently signed a Memorandum of Agreement (MOA) with Quantum X, Inc. for the development of a mobile application for 1343 Actionline against Human Trafficking. Quantum X is the company behind the overseas job portal, WorkAbroad.ph. Present during the signing were Secretary Imelda M. Nicolas of CFO and Mr. Robert John Oh, General Manager of Quantum X. The signing was also witnessed by Mr. Edson Pabiloña and Ms. Rhea Suiza from Quantum X and Ms. Ivy Miravalles, Ms. Janet Ramos and Mr. Dennis Pulma from CFO.

The 1343 Actionline is a 24/7 national hotline facility that responds to emergency or crisis calls from victims of human trafficking and their families. It was created in line with the core message of the Inter-Agency Council against Trafficking (IACAT), Laban kontra Human Trafficking, Laban nating lahat! to actively engage the public and encourage vigilance in fighting human trafficking. The IACAT through its Advocacy and Communications Committee (ADVOCOM) and CFO operationalized the 1343 Actionline in March 2011.
Initially, the Actionline can only be reached through local calls within and outside Metro Manila. To make this government services more accessible to the public, other options for reporting were developed such as online, text messaging/short messaging service (SMS), toll-free international lines in 16 countries, and social media pages.

With the popularity of smartphones and other mobile devices especially with the youth, the government turns to modern technology in fighting this modern slavery. The 1343 Actionline mobile app will have features where users can conveniently access information about human trafficking and its related cases, and report suspected trafficking activities through their smartphones.

The 1343 Actionline mobile app will be available for downloading in August 2014.