Details
PASIG CITY, Philippines – Coinciding with the International Day Against Trafficking In Persons and the anniversary of the signing of the United Nations Protocol to Prevent, Suppress and Punish Trafficking In Persons, Especially Women and Children signed in Palermo, Italy in the year 2000, the ASEAN Experts Working Group (EWG) Meeting completed last December 12, its task to draft and deliberate on the key provisions of the legally-binding and norm-setting during the 9th ASEAN Experts Working Group Meeting to draft the ASEAN Convention Against Trafficking in Persons Especially Women and Children (ACTIP) and its corresponding action-oriented document, the Regional Plan of Action Against Trafficking In Persons (RPA) in Pasig City, Philippines.
Read more: Drafting of ASEAN Convention To Combat Human Trafficking Concludes In the Philippines
Details
The Philippines garnered top spot in the 2014 edition of the Global Slavery Index, ranking it among countries "making comparatively strong efforts with limited resources" in the campaign against human trafficking.
The second edition of the index ranked the country number one in Asia, number three in Asia-Pacific and number 29 globally, out of 167 countries, in terms of government's efforts and programs, especially on the response of the criminal justice system against human trafficking.
Details
OFW Watch, a mobile app developed by former domestic worker Myrna Padilla to protect overseas Filipinos from human trafficking, now has more than 100,000 members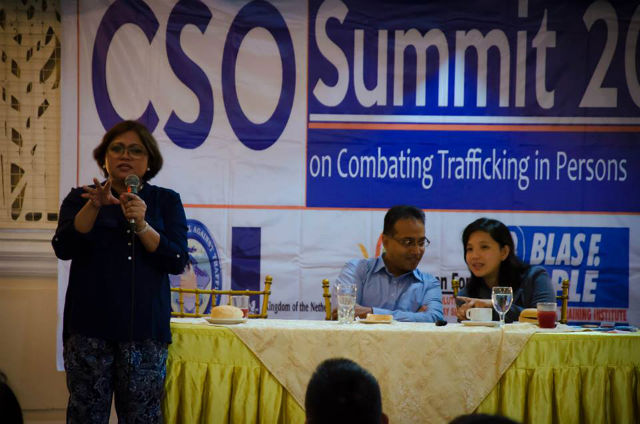 TECH SAVVY. Former OFW Myrna Padilla has developed a mobile app to help protect OFWs from human trafficking. Photo by IACAT